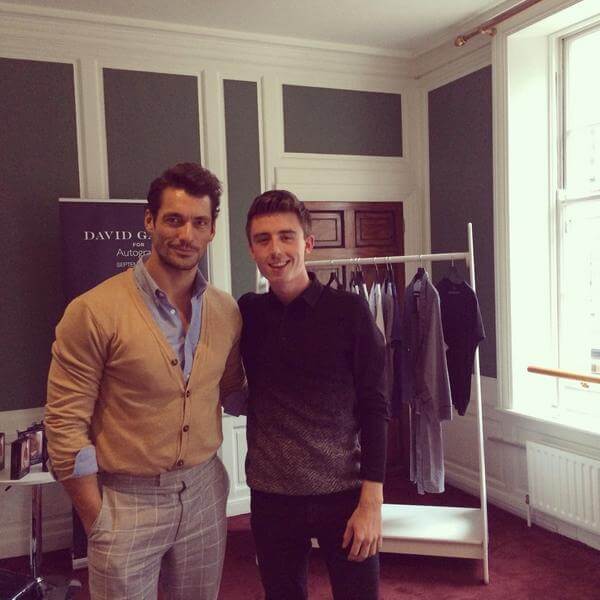 Dublin came to a standstill yesterday as male supermodel, David Gandy jetted into the capital to launch his 28-piece capsule underwear collection for Marks & Spencer. Jamie Tuohy sat down with the 34-year-old model to talk about the David Gandy for Autograph range, his famous and much sought after physique and the perfect pint of Guinness.
Arriving to meet David Gandy, I am led into a private room in Marks & Spencer's Grafton St store and informed that I am his last interview of the day. David had been through a long day of press interviews and meets and greets with fans, and as well being in the midst of an international tour to launch his debut underwear line for the high-street giant, I expected the supermodel to be a little jaded.
Who was I kidding? The Essex native, who catapulted to fame with that Dolce & Gabanna Light Blue campaign, greeted me with the firmest of handshakes and an offering that verged on an insistence of 'tea or coffee?' As intimidatingly handsome as he is in real life, he is approachable, immediately friendly and a perfect gentleman.
In the world of celebrity underwear lines, of which there are many, David Gandy for Autograph stands out for its subtle and uncomplicated aesthetic, placing a focus on quality and longevity rather than eponymous and obvious branding. The collection consists of 28 essential pieces ranging from underwear to sleepwear and David was involved every step of the way.
"M&S made the transition from model to designer very easy for me. When you're working with underwear, you want to work with the best and they are the best. Like every guy, I had my favourite underwear and I knew what I liked. I like to feel like I'm hardly wearing the underwear. I wanted something that would keep its shape over many years, so I sought to recreate that with the team and I was part of each step from the collection's inception right through to development and completion."
Playing the role of hand-on designer was important to David and his influence is heavily felt throughout the range, from the campaign posters which feature him in his own designs right through to the look of the packaging and branding, which was something David felt very strongly about. The only obvious logo is one of a houndstooth, which links the collection back to David's love of British heritage.
I asked David if the David Gandy for Autograph collection may be a foreshadowing of his own menswear line and the model says that designing is definitely something he is interested in, and the basis is already there, having collaborated with tailors such as Neil Fennell in the past to create custom-made suits for London Collections: Men. While men around the world may have to wait another while before getting their hands on a David Gandy menswear collection, David did offer up some of his own style advice, as well as giving me an insight into his gruelling fitness regime before a campaign shoot.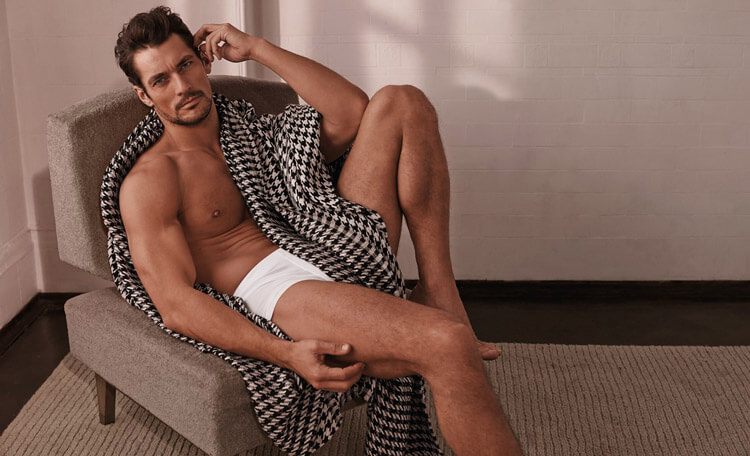 In terms of sculpting a physique like Gandy's, unsurprisingly, it doesn't come easily. "The more blood sweat and tears you put into it, the more you get out of it. Of course, I ramp it up a notch before a shoot such as this one, but at the time of the Autograph campaign shoot, I was moving house, so I was lifting furniture up and down flights of stairs that ended up leaving me more ripped than I'd ever been."
"Lots of guys ask me about my body and that's why I launched my fitness app on the iTunes store, that's simple and accessible. People ask me if I'm going to update it and I say no, because these are the exercises and regimes that work for me." We are longstanding fans of David Gandy's style, here at HMS, and the statuesque model told us that you should never bow to a trend and only "wear what works for you."
"All these rules about what you can and cannot wear are so boring. If you want to wear brown shoes with a grey suit and that works for you, then don't let anyone tell you otherwise."
David knows what he likes and he sticks to it, no matter what and in the fashion world, which is so trend-driven and seasonal, it makes him a unique force to be reckoned with. Don't expect him to deprive himself for fashion, as he informed me that the first thing he did upon landing in Dublin was get "a couple of pints of Guinness" and he promises to be back in a couple of weeks when his tour has finished to relax and enjoy the perfect steak. Ireland, you've been warned!